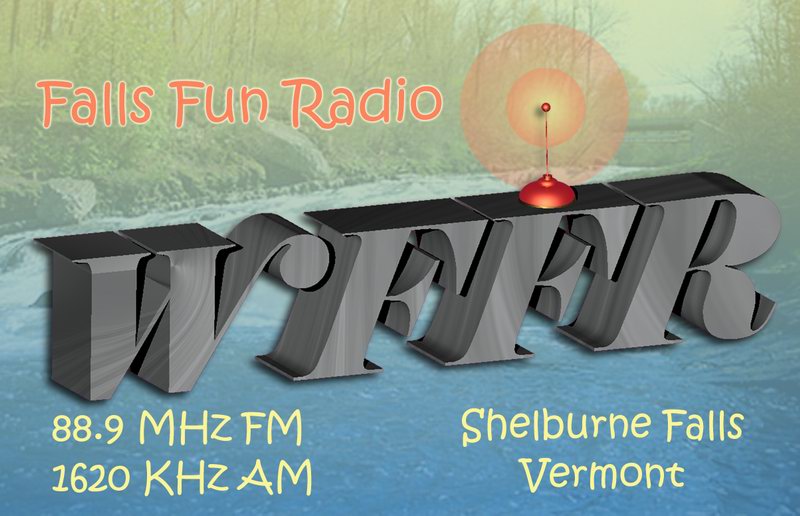 Welcome to the Falls Fun Radio Webpage!
Howdy! Our little radio station operates under Part 15 of the FCC regulations using compliant transmitters in the AM and FM bands. From a small studio located at 969 Falls Road, we transmit a weak radio signal that perhaps can be heard in nearby homes. It is a non-commercial operation which receives no income and is done as a public service and for the educational and entertainment benefit of local youth.
The station is essentially a reincarnation of the longest-surviving of three tiny AM-band operations that were started by teens in several parts of Shelburne back in the years 1969 and 1970. If you'd like to help our volunteer effort, kindly let us know via the contact information at the bottom of the page. No previous radio experience is needed and often things can be done right from your home!
Our 88.9 FM frequency is toward the lower end of the FM dial, a bit above VPR (Vermont Public Radio). The 1620 AM frequency is on the upper end of the radio dial, at or slightly beyond the limit of what older radios can actually tune (newer models receive beyond 1700).
Please note that Falls Fun Radio has no affiliation with any other radio station or service using the initials "WFFR".
Program Schedule
At present, we are on the air Monday and Friday evenings from 5 to 6:30pm. There are also occasional broadcasts by the youngsters, but not on a set schedule.

Shelburne, Vermont local news may be heard immediately following the Monday and Friday evening programs. In addition, a recorded newscast and items of public interest are transmitted during the day most weekends in a continuous announcement loop on the AM frequency. You may hear (or download) an mp3 file of the weekend radio news report by scrolling down to the Audio and Downloads section.
Shelburne Selectboard meetings and other municipal functions we record are also made available for a limited time. These files are uploaded to the website the next morning and may be found in the Audio and Downloads section.
Reception Hints
FM RECEPTION An AC-powered table radio or stereo receiver is sometimes preferable to a portable that is battery operated. FM signals tend to be "line of sight" and are easily blocked by building materials and large objects. Therefore, reception may be improved by simply moving the radio to a different location within a building, especially one that is on a second floor and/or near a window that faces toward #969 Falls Road. Any built-in telescoping antenna should be extended fully and rotated in position for best reception. A stereo receiver will benefit from using a set of "rabbit ears" attached to the (FM) antenna terminals. The fully-extended antenna elements should be rotated in position and/or any adjustment knob(s) turned for peak signal. Lacking an external antenna, a piece of wire either 2.75 or 5.5 feet long may be attached to the "FM" terminal and stretched out, usually vertically, in the position that gives the strongest signal. Although we transmit in stereo, receiving our weak signal in monaural will probably be necessary. Some radios will make the switch automatically, while others may have a manual selector.
AM RECEPTION Our AM-band signal will be the one to try for if you live more than a few houses away. Again, an AC-powered radio is often superior to a small, battery-operated portable. Vintage receivers with a digital display may not tune above 1610KHz. However, most old radios that have analog (mechanical) tuning will receive slightly beyond this frequency, even if their last marking is "16," "160," or "1600." The built-in loop antenna typically used for AM reception tends to be directional, so simply rotating the radio will often increase the signal, as may moving it to a different location. Since the wiring for a (land line) telephone or cable system often acts as an antenna for AM-band signals, placing the built-in coil antenna of the radio next to either of these may improve reception significantly. An even greater boost in signal strength can be obtained by erecting an indoor antenna in the following manner. Extend a long length of (insulated) wire along the edge(s) of the ceiling or baseboard in one or more rooms. The longer the better, but it is most important to keep it away from electronic devices that may be creating radio interference. Next, loop the wire 6-8 times around the radio (vertically) to couple the signal to its internal antenna. You may find that attaching the "tail" of the wire coming off the loop electrically (insulation removed at the end) to a nearby earth ground or large metal object in the room will additionally strengthen the signal. Metal water or heating pipes are great for this, as is the screw securing the wall plate of a (grounded) electrical outlet. If this ground source is used, be sure to tape the wire in position across the wall plate so it cannot accidentally come in contact with the prongs of an electrical plug. Automobile radios are generally quite sensitive, so one might be used to determine if reception is even possible at a particular location.
Most of the electronic devices found in homes today emit radio signals of their own, which can create background noise all over the radio dial. It is therefore wise to keep your radio and any external antenna away from computers, HDTVs, chargers and the like to reduce the pickup of this interference. If good reception can only be obtained in an inconvenient location, you might consider re-transmitting the sound from the radio's speaker using a wireless "baby monitor."
Audio and Downloads
(you can download and save a file to your computer or personal device if you wish by right-clicking on the link)
To access the Court-recorded audio from the VT Railway, Inc. vs. Town of Shelburne appeal on 11/8, CLICK HERE.
To hear our Shelburne local newscast for the weekend of November 10th, CLICK HERE.
For an audio preview of the Shelburne Community School's lunch menus for the week of November 12th, CLICK HERE.
To hear our Shelburne local newscast for the weekend of November 3rd, CLICK HERE.
To hear our (brief) recording of the special Selectboard meeting of November 1st, CLICK HERE.
NOTE: Selectboard meetings of 10/23 & 10/25 were not recorded. Please listen to our newscast for 10/27, above.
To hear our recording of the Selectboard meeting of September 25th, CLICK HERE.
To hear our recording from the public gathering for former Chief Jim Warden on June 2nd, CLICK HERE.
To hear our recording of the special Selectboard retreat of April 3rd, CLICK HERE.
To hear our recording of the special Selectboard meeting of March 20th, CLICK HERE.
To hear our recording of Police Chief Aaron Noble's pinning ceremony on February 22nd, CLICK HERE.
To hear our recording of the special Selectboard meeting of January 2nd, CLICK HERE.
To hear our recording of the Selectboard budget meeting of December 13th, 2017, CLICK HERE.
To hear our recording of the special Selectboard meeting of December 2nd, 2017, CLICK HERE.
To hear our recording of the special Selectboard meeting of October 30th, 2017, CLICK HERE.
To hear our recording of the August 30th, 2017 public meeting on the wetlands petition, CLICK HERE.
We had Customdrumloops create a nice singing "jingle" for us. To listen to it, CLICK HERE.


To circumvent trolling, the above information is contained in an image. If you are visually impaired, hear it by CLICKING HERE

WFFR logo by Robert Charbonneau
Shelburne Falls background photo by Dean Goss